Candidates 2023
We have amazing candidates running for local elections this year. You can support them by volunteering to make phone calls, donating to their campaigns, and vote for them to protect our democracy on November 7, 2023!
Donate to the Manlius Dems 2023 Candidates!
---
Onondaga County Legislature – District 10
Vote for Carrie Wood on November 7 2023!
Carrie Ingersoll-Wood
for District 10
Carrie is passionate about advocacy for students with disabilities and connecting students to the disability community at large both on and off campus. Her diverse experience in community building ranges from her background as a teacher in the Syracuse City School District and volunteer experience as a club advisor with Girl Up supporting club members who fight for justice on intersecting gender equity social issues. Carrie and her husband moved with their family to Manlius in 2016; two of their three children graduated from Fayetteville-Manlius high school.
Carrie is the director of the Disability Cultural Center at Syracuse University and a Ph.D. candidate in the School of Education at Syracuse University. She is a member of the university's Senate Committee on Race, Equity, Ethnicity, & Inclusion, and serves on the Disability, Access, & Inclusion Council, the Council on Diversity and Inclusion, and the Chancellor's Task Force on Sexual Relationship Violence. A first-generation student, she holds an AA from SUNY Broome, a BA with Departmental Honors in English, Literature and Rhetoric from Binghamton University and an MAT in English Adolescent Education from Binghamton University.
The Legislature is the chief policy-making body for Onondaga County. District 10 includes nearly all of the Town of Manlius, including Fayetteville, Minoa, and Manlius. The general election is November 7, 2023.
---
Onondaga County Legislature – District 12
Time for change, doctors orders!
Dr Sunny Aslam
for District 12
My name is Sunny Aslam and I am excited to run for Onondaga County Legislature in District #12! It's time for a change in representation for District 12. I can't wait to bring my energy and experience serving the community to a legislature that needs fresh ideas and to attack the crippling poverty in our county.
I'm addiction and pain psychiatrist who lives in Jamesville, NY, and I'm running for Onondaga County legislature in district #12, NY. I've been a leader all my life, fighting poverty, for greater health care access and working directly with poor and working class families. I was named the top physician in CNY in 2018, honored by the county medical society for Physician Service to the community in 2019 and earned the SUNY Upstate Leonard Tow Humanism award in 2020 for clinical excellence and outstanding compassion in the delivery of care.
Onondaga County's 12th district urgently needs a change in representation to protect our local economy, healthcare and social service needs. Instead of drastic cuts to the budget I support smart growth alternatives and a reinvestment in our county workforce.
---
Town of Manlius
John Deer
for Town Supervisor
In my short time on the board I have made it clear to residents in our town that I am committed to making this a government for and by the people. Going door-to-door in 2019, I found that many voters had little understanding of the role of our town government and the ways it impacts our lives, let alone its potential. Once I found myself on the board I realized that our town needs progressive and bold leadership to modernize, increase transparency and foster an inclusive process.
A town government can advocate for a stronger community and ask for all residents' feedback when making important decisions. People should feel encouraged to participate at every step of the way. All too often I hear, "That's the way things have always been done" and "Don't fix something that isn't broken." This kind of thinking makes it impossible for new voices to be part of the process. Rather than running on a plan to keep things the same, I'm running for reelection to keep Manlius moving forward.
"Re-elect Town Supervisor John Deer to keep Manlius moving forward."
---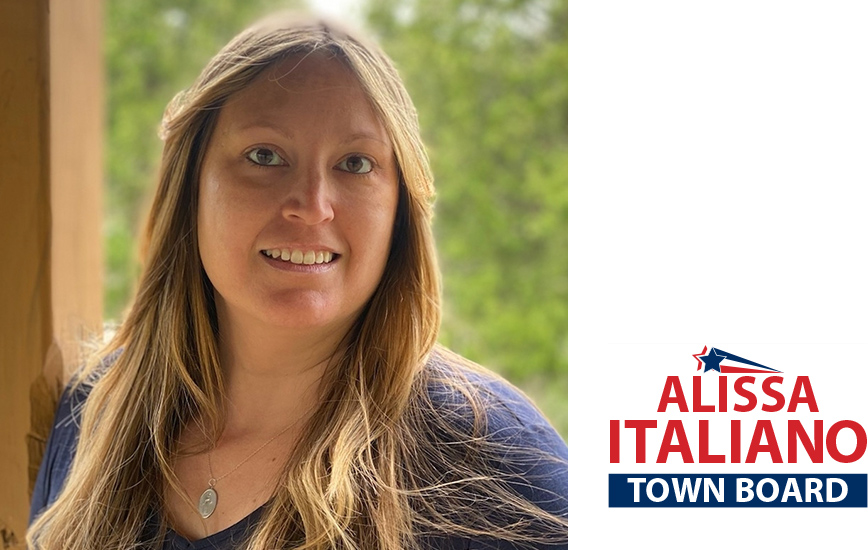 Alissa Italiano
for Town Councilor
Vote to re-elect Alissa Italiano for Town Board this November!
I know what it's like to be told something isn't possible – to struggle and to be challenged. When I realized I faced struggles as a student with a disability, it helped me realize everyone faces these struggles and much worse. I've been advocating to make changes for the better when it was relevant to me, and now I'm paying it back and forward in my professional life. Changes that not only affected me at the time, but effected change for those who came after me.
I hope to bring in opportunities for economic development, affordable housing, especially for seniors/elderly and those with disabilities, but also for young, working families just starting out. Manlius should be a place where people and families can grow, through every phase of life.
---
Michael V. Nesci
for Town Councilor
The events that have transpired in our country over the past 10-years have inspired me to get involved with local politics. We have experienced very challenging economic times, political division, and increased foreign and domestic threats to our democracy. There is much to do at the local levels of the political system to protect our democracy, improve quality of life, create a sustainable future, and a robust economy that provides strong economic support to our citizens.
I would like to maintain progress and growth within the Town of Manlius by continuing to pursue renewable resources, protect our beautiful natural habitats, provide affordable, quality and efficient housing to appeal to those that are looking to settle in our town, ensure the highest level of services, commit to a safe and secure community by supporting our public safety departments, and commit to seeking diverse and inclusive input from town residents.
There is much work to be done, and it is my sincere hope that we can do this together. A representational government should include input from all stakeholders. If elected, I intend to include you, the residents of the Town of Manlius in the governance of our town.
---
Re-Elect Heather to the Manlius Town Board!
Heather Waters
for Town Councilor
Heather was elected to the Manlius Town Board in 2019 and invites residents with young families and newcomers to participate in government. Heather is a trained mediator, and she authored the updates to the Town's public meeting rules, which launched the "Open Podium" public comment program. She led the town's pay equity audit, Co-chairs the Comprehensive Plan Committee, the Tree Commission, and she serves as the liaison to the Police department. She is a member of the multi-agency Critical Response Committee and the Deer Management Committee.
Heather is a Venture Partner at Akili VC and trained community mediator. She previously worked as an Assistant Dean for Advancement at Syracuse University and holds a BA from Mount Holyoke College and an MS from Columbia University. She advocates alongside fellow LGBTQIA+ community members and people with disabilities. Born and raised in the town, Waters lives in Fayetteville with her husband, Sterling, and their 11 year-old, Riley.
---
John Boyd II
for Town Justice
I am running for Town Justice because I believe that my background, experience, passion for the law and for what is just will allow me to best implement fairness, equity, and reasonableness in our court system. As a resident of Manlius I have lived in New York my entire life. I currently live with my wife, Katie, a pediatric nurse practitioner and our two wonderful children, Magnolia and Willow.
Since graduating from Syracuse Law, I have continued to serve our community by volunteering as a coach for my Syracuse Law's Mock Trial Team, serving as a member of the Village of Fayetteville's Planning Board, serving on the Volunteer Lawyers Project board and serving on the board of the William Herbert Johnson Bar Association as its Treasurer.
I am a Court Attorney for the Fifth Judicial District working in the Syracuse City Court. I provide legal advice to the judges of the Court in civil, criminal, small claims, and landlord tenant cases. Before joining the Court I was an assistant district attorney with the Onondaga County District Attorney's office. I prosecuted felony cases in the Economic Crimes Bureau. Prior to that he was a litigation attorney at Bond, Schoeneck & King, PLLC, in its Syracuse office.
If elected, I promise that I will fairly uphold the law and promote these same ethical values from day one. I hope to have your support in fostering an equitable court system here in our town of Manlius.
Thank you for your consideration, and I hope to earn your vote.
---
Onondaga County
I'm running to restore integrity to the Onondaga County Executive Office.
Bill Kinne
for County Executive
Bill Kinne is a true public servant. He has dedicated his life to public service in Onondaga County.
Kinne is a long-time county legislator. First elected in 1991, he served until 2011. He was then a legislative aide from 2012 to 2018, and was elected again to the county legislature in 2019.
Bill will work hard to decisively tackle the issues that affect our community by listening to constituents, using common sense and taking action.
Vote for Bill Kinne on November 7th and let's elect the first Democrat for Onondaga County Executive!!
Chuck Keller
for District Attorney
Re-Elect Mary Masterpole!
Marty Masterpole
for County Comptroller
---
Emily Essi
for County Clerk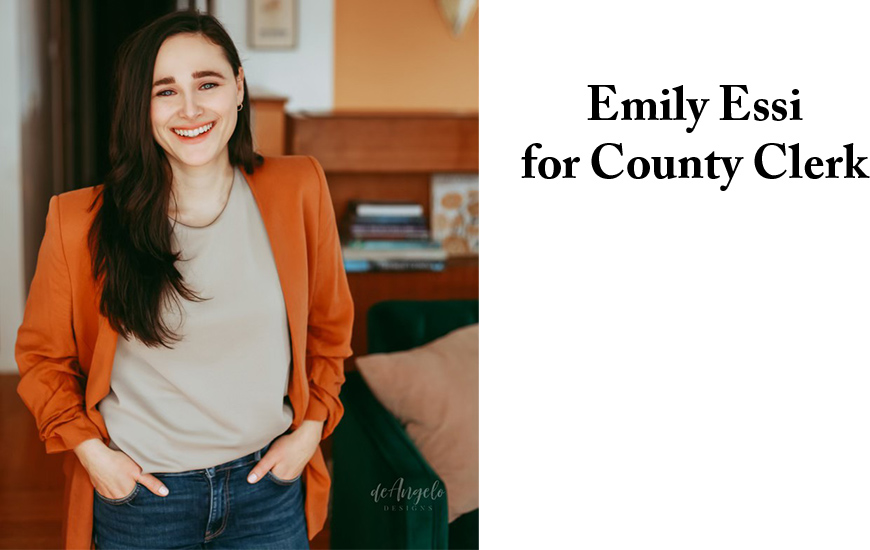 Important Dates
Vote February 14, 2023 – Deadline to change your party enrollment.
Find out more at elections.ny.gov
---
Vote March 21, 2023 – Village of Manlius Elections
Contact your village office for details.
---
November 7, 2023 – General Election Polls will be Open 6AM – 9PM.
Early Voting will be available. If you need to vote by absentee you need to fill out an absentee ballot by Tuesday, October 28, 2023.
For more information visit: http://ongov.net/elections/
---
Interested in running for office?
Contact us to let us know what position you are interested in running for. Elections happen every year. From school board to congress, we need more Democrats running at every level of government.